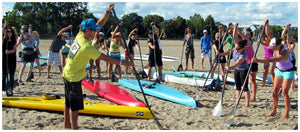 Danny Ching Hosting a SUP and Outrigger Clinic in San Diego
This Saturday, March 9th, spend your morning learning Outrigger or Stand Up Paddle Board Stroke Technique from World Champion Paddler and Coach Danny Ching in San Diego at The SUP Connection in Liberty Station, Point Loma. You will spend time on and off the water with Danny discussing proper body mechanics, injury prevention, and stroke/Race strategy. Danny will put you through a series of land and water drills to help reinforce and implement the paddling techniques you learn. Learn to paddle faster and more efficiently without getting injured.
About Danny Ching:
"At 30 years of age Danny Ching has solidified himself as the premier paddle sports athlete in Southern California, and is recognized worldwide as a skilled waterman. By 15 he was racing with Lanakila's top men's outrigger team, leading them to top finishes locally and in Hawaii. At 16 he took up Olympic flat water kayaking winning multiple national titles and setting himself up for a path on to the Olympics. His kayaking carrier culminated in 2007 when he raced on the USA National team at the Pan-American Games in Rio Brazil. At 18 Danny entered his first distance OC-1 race and in less than a year he had climbed to the top of local competition, capping off his run to the top by winning the Outrigger World Championship in 2010 and 2013. Danny's stand up (SUP) career started in 2009 with a 1st place in the Hennessey's Championships. He then backed that up with a 3rd place in his second race (the Battle of the paddle California 2009). In 2010 Danny founded 404 Sup Boards and launched his new company by winning both Battle of the Paddle races in Hawaii and California and going undefeated for the year in SUP competition. Since then, Danny has also founded Hippo Stick SUP Paddles and recorded multiple SUP victories, his most memorable coming at the prestigious Battle of the Paddle California and Hawaii, including 3 BOP Elite victories, 6 BOP distance victories, 7 Overall BOPs."
In the 2 hour clinic you will learn techniques on how to maintain speed and improve acceleration as well as body mechanics and how to prevent injury. Danny Ching will also evaluate your stroke and review the most efficient stroke for you. You will have on land discussion followed by water demonstration and drills.
The first session is for Outriggers held from 8:00am – 10:00am followed by lunch.
The SUP Connection will be providing lunch for those who signed up on the outside patio at the Courtyard Marriott Hotel  located just next to the launch site.
The second session is for Stand Up Paddle Boarders from 11:00am – 1:00pm.
Parking is available and free on the street or parking lot next to NTC Park in Liberty Station off Farragut Street.  
SPACE IS LIMITED!!!
$250 per session
BOOK ONLINE NOW!
http://bit.ly/PaddleClinic

YOU WON'T WANT TO MISS THIS OPPORTUNITY
---