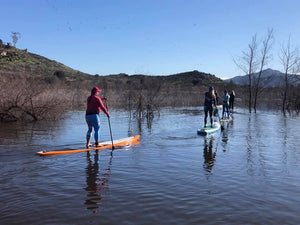 What you Need to Know to Paddle on Lake Hodges
Lake Hodges located about 31 miles north of downtown San Diego in Escondido opened up to the paddle community on February 6, 2019 allowing stand up paddle boarders to legally be on the lake in the first time in history.
"Lake Hodges was formed by the completion of the Hodges Dam in 1918. The reservoir is fed by San Dieguito Creek and features one of the largest watersheds of all the local reservoirs. The city of San Diego purchased Lake Hodges in 1925 and continue to operate it today." – Sdfish.com
Known for being a great fishing lake for bass and crappie, there are a lot of fishermen who come religiously to fish especially on the weekends. When the lake is full, the reservoir has about 27 miles of shoreline and has 6 barbecues and 12 picnic tables. Self contained gas barbecues are allowed in the picnic area around the lake, but ground fires, glass containers and camping are not allowed at the park.
Lake Hodges Hours of Operation:
Open: Wednesday, Saturday and Sunday 6:00am to 6:00pm
Closed: Monday, Tuesday, Thursday and Friday
Open: February – October
Closed: November – January
Holiday Schedule
Open: Memorial Day, Independence Day and Labor Day
Closed: Thanksgiving, Christmas and New Year's Day
Rental boats are available Wednesday, Saturday and Sunday consisting of rowboats, motor boats, single and double person kayaks. Private boats, including, canoes, kayaks, sailboats, float tubes, sailboarding and NOW Stand up paddle boards are allowed all three days with a maximum speed limit of 35mph.
*** Must Purchase a $7.00 Day Permit from the Lake Hodges Concession Building located on the North side of the lake.
Lake Hodges Concession:
Open, Saturday and Sunday from 6:00am-6:00pm
Phone: (760) 432-2023
Full service snack bar
Bait and Tackle
Cash/Visa/MasterCard Accepted
Parking
Once you have purchased your day permit for your stand up paddle board, you will drive down to a dirt lot that is right next to a beach launch site for your board. You are able to easily unstrap your board from your car and carry about 30 feet towards to water.
Miscellaneous:
Dogs are allowed at all City of San Diego Reservoirs; however, they must be kept on a leash at all times and at least 50 feet away from the water. Dogs are not allowed on boats, paddle boards or kayaks. Please pick up after your pet.
Bathrooms - They have floating bathrooms scattered along the lake called "S.S. Relief" 
Requirements on the water:
Be cautious and courteous of boaters
Must have PFD on Board
Highly recommended to wear leash attached to you and the board
Advised to bring water for hydration
Must have your Day Permit on you at all time
Paddle Safe! Paddle Smart! If we honor the lake's rules and regulations, that gives everyone in the paddle community hope that they might open up more reservoirs for us to paddle on!
Sam Eastburn
West Coast Paddle Sports
2/13/19
---