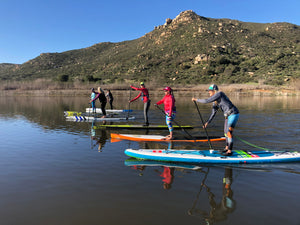 Lake Hodges Welcomes the Paddle Community for the First Time in History
 At 7:00am on Wednesday February 6th, 2019, The West Coast Paddle Community walked into the Lake Hodges Concession Building to greet the welcoming staff and a member of The City of San Diego Water Department Water Operations Division. The paddle group was very aware of the U.S. Coast Guard Regulations for Stand UP Paddle Boarders and wanted to respect and honor them. After a quick meet and greet, the group one-by-one purchased their permit that was only $7.00 that was good for the day.
From the concession building parking lot the launch area was just a quick drive down to a dirt lot that is right next to the water. After unloading all the boards and gearing up, the paddlers circled around to discuss safety, rules, regulations and the paddle course about to be embarked on. Ten paddlers grabbed their boards and entered Lake Hodges for the VERY FIRST TIME in history with Traci Kristensen being the very first one!! She was ecstatic, an Escondido local who lives nearby, has been dreaming of this opportunity for a very long time.
Each paddler was equipped with:
Paddle Board
Paddle
Day Permit
Water for hydration
Leash attached to their ankle
PFD (either around the waist or on paddle board)
The West Coast paddlers headed from the Boat Dock down south of the lake respectfully passing by very nice fishermen, beautiful wildlife and boats. It was about 2.5 miles down the lake almost making it to the Bicycle Pedestrian Bridge before circling back. Other than seeing the abundance of wildlife, you will also pass by floating toilets! They named their floating toilet docks, the "S.S. Relief".
On the way back toward the launch site at the boat dock, the wind started to pick up on the lake. This why leashes are recommended at all times, preventing you from ever getting away from your watercraft.  As the 10 paddlers make it back to shore, you can see smiles from ear to ear completing almost 5.5 miles round trip. The paddle was very enjoyable, pleasant and one of a kind.
"As the West Coast paddle community we hope other paddlers will represent themselves in a respectful way to set an example so we can have more waterways and reservoirs open up to us!"- Bob Long of West Coast Paddle Sports 
---