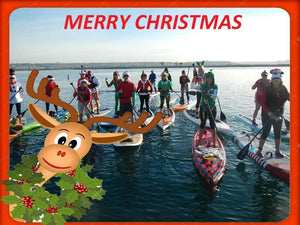 SEASON'S GREETINGS
Season's Greetings. Happy Holidays, Merry Christmas. Happy Festivus.
The Santa Ana's are over (almost) and the other Santa is packing his sleigh.  Here is hoping that you have been good all year and that there just might be a new Stand Up Paddle Board or Carbon Fiber Paddle in the sleigh for you.  If Old St. Nick just happens to miss you this year then come on by West Coast Paddle Sports or maybe you can get someone to purchase your gift right here through our web site.
Anyway Happy Holiday to you and may all your paddling be merry.
BOB, Family and Staff (Derrick)
---