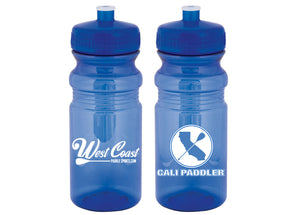 West Coast Paddle Sports Giving Away Reusable Water Bottles with Cali Paddler at Hanohano Ocean Challenge
Last week it was announced that Cali Paddler would be teaming up with Hanohano Ocean Challenge for a second year to bring #cpBlueBuckets. Placed throughout for recyclables as well as for impromptu beach cleanups, this will help ensure our paddling landfill impact is minimal and beaches are clean. It was also announced that there would be refillable water stations again for paddlers to stay hydrated. Great news as paddlers strive to reduce single use plastic water bottles and be good stewards.
But what do paddlers use for those refill stations if they don't have a reusable water bottle? Enter West Coast Paddle Sports! After reading the article, they decided to step-up and be part of the solution.
"I got a call a few hours after the article came out from Todd at West Coast Paddle Sports. He wanted to make sure paddlers could take advantage of the water-fill stations," retells Clarke Graves of Cali Paddler. "He suggested teaming up to get some reusable water bottles designed and ready to give out to paddlers." The two companies only had a week, but the enthusiasm to support the race's efforts made up for the short time-frame.
"As an Event Director I strive to minimize our impact on the venue and surrounding environment. As an Ohana of paddlers, we should all be stewards of our playground" said Dan Van Dyck, the race director for the Hanohano Huki Ocean Challenge. "I love it when our partners and vendors step up to share the responsibilities of reducing waste and recycling. Not only reducing our impact, but improving our experience."
For this race, there will be 72 water-bottles to give out for free to registrants. Todd Capizzo of West Coast Paddle Sports stated "We know that won't cover everyone, but we will be getting more for events in the future as well. We will also have a water-fill station at our booth to complement the stations the race is also offering."
Interested in getting a re-usable paddler water bottle? Come down to the West Coast Paddle Sports or Cali Paddler vendor booths at the event on Saturday January 26th, 2018 at Bonita Cove. Bottles will be given away free on a first-come first-serve basis that morning, one per entrant, while supplies last and you can get your picture taken with our #CaliPaddlersCare sign. The event will be the biggest in the Winter SoCal Racing Series and you will joined by lots of great athletes who share an eco-friendly focus.
---
Hanohano Huki Ocean Challenge
2019 marks the 24th year of the Hanohano Huki Ocean Challenge and will be held Saturday January 26, 2019 at Bonita Cove Mission Bay. SUP, Prone, Outrigger, and Surf-ski racers can compete in 5 mile or 10 mile courses, as well as kids races.Paddlers are encouraged to pre-register at Paddle Guru.
West Coast Paddle Sports
Since 2011, West Coast Paddle Sports has been supplying San Diego with the best in a paddleboard and outrigger water sports equipment. And now with our brand new showroom, we are proud to continue that tradition and expand our offerings as San Diego's premier headquarters for water sports equipment, service, rentals, repairs, event space and much more. WCPS offers the finest boards and paddles from the leaders in the Stand Up industry. We have set aside work space for customizing paddles and deck pads and making sure all your needs can be handled in a clean and professional environment. We now have plenty of space for packing and shipping as well. http://www.westcoastpaddlesports.com
Cali Paddler
Cali Paddler was founded in 2015 for paddlers, by paddlers, with the hopes of uniting all the paddle craft on the water. They will have a booth at the event where paddlers are encouraged to come visit, learn about the 5% Paddler Pledge, and check out their paddling themed apparel. Learn more at www.CaliPaddler.com.
---