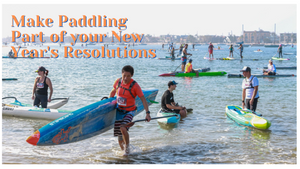 Make Paddling Part of Your New Year's Resolution
A new year brings new year's resolutions. The most common resolutions revolve around health, wellness, and weight loss. The good news is that Stand Up Paddling (SUP) can help you reach all 3 of these goals!
Here are some of the benefits of Stand up Paddling:
* Gets you on your feet – Sitting is worse than smoking for
our body (so scientists say).  This is a fun way to get on your
feet and moving.
 * Physical and mental health benefits – Reduces stress &
increases strength.
 * Total body workout – If one of your goals is to work out
more, this sport hits EVERY muscle including those hard to hit
abdominals.  The best part is you won't feel like you are
working out.  You will be having to much fun!
 * Low impact workout – Bad knees, sore joints?  This is a low
impact sport that you can do at any age!
 * Boosts cardiovascular health – Especially if you join local
races and paddling events.  You don't need to be a professional,
or even fast. Just be out there to have fun. You can check out
Paddleguru.com for races near you.
 * Socialization – Grab some friends for a fun afternoon paddle
or join a local paddling event with your friends or to meet new
ones.  Check your area for paddling groups on FaceBook and
MeetUp.
 * Offers the optimal environment for meditation – Paddle out
where there are no crowds, sit down and take in nature.  What
better place to meditate and center yourself?
 * Environmental awareness – Trust me, you will see how people
impact the waterways in your area.  From beautifying and
enjoying wildlife to doing trash pickups. I always carry a mesh
bag with me to clean up as I go.
 * Balance – This sport really enhances and challenges your
balance. Choose a wider board for less challenge and a
narrower board for more challenge.
* Relaxation – Science has proven that water is relaxing to
humans in general.  There is no better feeling than a day on the
water to relax your mind, body and spirit.
 * Adventure travel – SUPS are great for adventure.  From bringing
an inflatable to your favorite camping spot by a river or lake to
touring on a hard board through canyons and other adventures.
 * Variety/flexibility - Flat water paddling, SUP surfing and
touring.  Pick your passion or try all three.
 * Low cost to start – The best thing is that once your have your
own board there is no expense other than getting to your
destination.  You can get a board, paddle and leash package
for under $1000.00.  Then you can bring your gear to your
favorite location or adventure. 
Let us help you find the perfect board for you! Stop in and we will match you with a board that suits your interests and skill level and get you out on the water.
---